Living Trust 101: Disclaimer or Flex Trust
September 23rd, 2014
Katherine Becker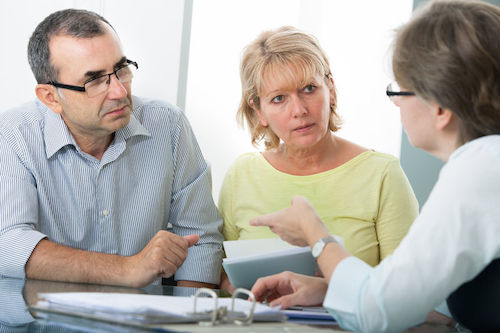 In the first part of our three-part series on living trusts and how they can help families, we discussed and gave examples of the Traditional AB Trust or QTIP Trust. As we wrote in that post, living trusts can provide protection for your family or spouse after your death. It can also help to avoid probate and some taxes, provides a way to choose beneficiaries, and allow you to easily make changes to your estate planning when circumstances change. This post will look at the second type of trust that a married couple with children might choose.
Type # 2 – Disclaimer Trust or Flex Trust
Because of the recent combination of increases in the threshold for Death Taxes and the uncertainty as to what that threshold will be in the future, many married couples with children are now using a "Disclaimer Trust". A Disclaimer Trust is often also called a "Flex Trust" because it is flexible and gives the surviving spouse the right to decide what to do when the first spouse dies. Unlike an AB Trust or a QTIP Trust, both of which mandate that the surviving spouse divide the assets and fund the A Trust and the B Trust at the death of the first spouse to die, the Disclaimer Trust allows the surviving spouse to choose whether or not to create and fund an AB or QTIP Trust at the time of the death of the first spouse to die. The surviving spouse may elect to leave all of the assets in the existing Living Trust and to retain the right to change the beneficiaries as to all of the assets of the Trust in the future if circumstances change.
Example: Assume that at the time of the death of the first spouse to die, the threshold for Death Taxes is $5,000,000, the couple has total assets of less than $1,000,000, using an AB or QTIP Trust is not necessary to avoid Death Taxes, and the surviving spouse elects to leave the assets in one Living Trust and not to split the assets into an A Trust and a B Trust. Five years later, one of the children is severely injured and the surviving spouse changes the allocation of the assets to give the injured child a much larger share of the Trust Assets. After a few years, one of the grandchildren is determined to have a learning disability and the surviving spouse changes the Trust to give that grandchild a share of the Trust assets in a "Special Needs Trust". Ten years later, the surviving spouse remarries and names the new spouse as the beneficiary of all of the Trust assets, leaving nothing for the children.